KPMG Nigeria University Scholarships Programme, 2021
September 25, 2021
KPMG Nigeria University Scholarship. Education is the foundation for growth and success in communities. In line with KPMG Nigeria's commitment to improving communities by enabling access to education, the KPMG Undergraduate Scholarship will sponsor selected indigenous students through their tertiary education.
Eligibility Criteria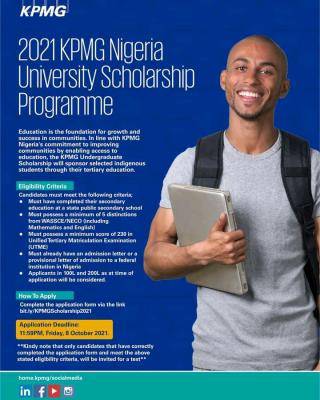 Candidates must meet the following criteria:
Must have completed their secondary education at a state public secondary school
Must possess a minimum of 5 distinctions from WASSCE/NECO (including Mathematics and English)
Must posess a minimum score of 230 in Unified Tertiary Matriculation  Examination (UTME)
Must already have an admission letter or a provisional letter of admission to a federal institution in Nigeria
Applicants in 100L and 200L as at time of application will be considered.
How To Apply For KPMG Nigeria University Scholarship:
Complete the application form via the link:
Application Deadline: 11:59PM, Friday, 8 October 2021.
*Kindly note that only candidates that have correctly completed the application form and meet the above-stated eligibility criteria will be invited for a test*
FAQ
I do not have provisional admission letter from my Federal University of choice but I have written my post UME exams, can I still apply?
Yes, you can apply if you meet all of the other eligibility criteria. However, you can only be awarded the scholarship on a conditional basis until provisional admission has been given after being successful at the testing and selection process. The scholarship award will be withdrawn in the event that admission is not granted by the university.
Are non-management and science courses eligible for the scholarship?
Yes, our scholarship programme is open to all applicants for four and five year degree courses.
Are Federal government secondary schools candidates eligible for the scholarship?
No, only candidates from state government secondary schools are eligible for the scholarship.
Can the scholarship be used for state universities?
No, scholarships will only be awarded to students who have gained admission into Federal Universities.
Will there be any examination after the initial email application stage?
Yes, shortlisted applicants would be required to write an assessment after the application closes.
Will the print out of WASSCE be accepted in place of the WASSCE certificate?
No, a copy of an applicant's WASSCE certificate is required for the application to be considered.
I do not have my WASSCE CERTIFICATE and/or UTME result slip. Is there any acceptable replacement for these documents?
We are not accepting any replacement for the required supporting documents at the moment.  All applicants are encouraged to submit copies of the listed application documents.
SEE ALSO: